Getting to Gilwell Park:
Please see attached map. Google Maps accepts both Gilwell Park Scout Camp and 2555 Gembrook-Launching Place Road as destinations.
Please NOTE: mobile phone coverage is poor/non-existent at Gilwell Park. If you are running late or are lost, or plans have changed, please advise us as early as possible.
Via Tullamarine Airport:
We recommend arrival between 10am and 12 noon, to avoid peak hour traffic and aid car-pooling. Please advise us of your flight details. New Zealanders, please note that the direct flight from Wellington arrives early evening and departs early morning. Please consider arriving on Thursday evening, and departing the following Wednesday; billeting within central Melbourne for Tuesday night can be arranged.
Travelling by car through Melbourne (including from airport):
Enter GPS/Google Maps destination as above. Melbourne has a number of toll-roads. If you do not have an e-tag on your vehicle, a 'Melbourne Pass' is available from: linkt.com.au This pass covers all toll roads over a 30 day period, but only debits for those tolls used. You will need a credit card, travel dates, and licence plate of vehicle to obtain one from their website.
If you wish to avoid all toll roads, please contact us.
Travelling by car from the North:
Enter GPS/Google Maps destination as above.
Leave the Hume Highway at Benalla, taking the Midland Highway (B300).
Between Yarck and Cathkin, turn towards Alexandra, then after Alexandra, continue on the Maroondah Highway to Healesville, then turn to Launching Place via Don Road (C506). At the T intersection, turn right, then left into Gembrook-Launching Place Road (C424) and continue for 20km to arrive.
At Gilwell Park:
Please see attached map. Swallowfield Road (unmade track) is opposite Gate 6, approx. 200 metres north on the main road from the Gilwell Park office. Drive along Swallowfield into the Assembly grounds/lodging area and park.
Public Transport:
Aim to arrive at Tullamarine Airport by noon. Catch a Skybus to Southern Cross Railway Station (about $18). Obtain a return train ticket to Belgrave from the Myki booth.
Go to platform 10 and catch the train to Belgrave (end of the line).
If you catch the 1:45pm train from Southern Cross, you will arrive in Belgrave at 2:56pm. Catch the 3:07 bus from Belgrave Station to Gembrook (bus number 695), arriving Gembrook main street 3:44pm. Gilwell Park is 6km beyond Gembrook, with no direct public transport; we will arrange collection if advised prior.
If you have any questions about transport, please contact us!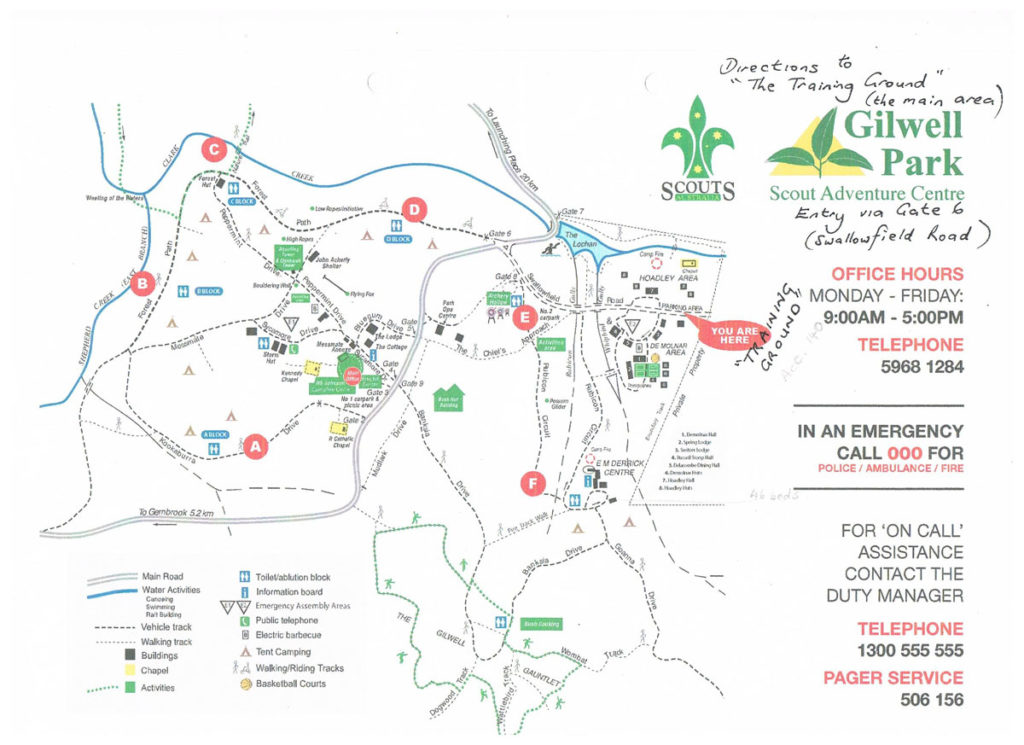 Gilwell Park Map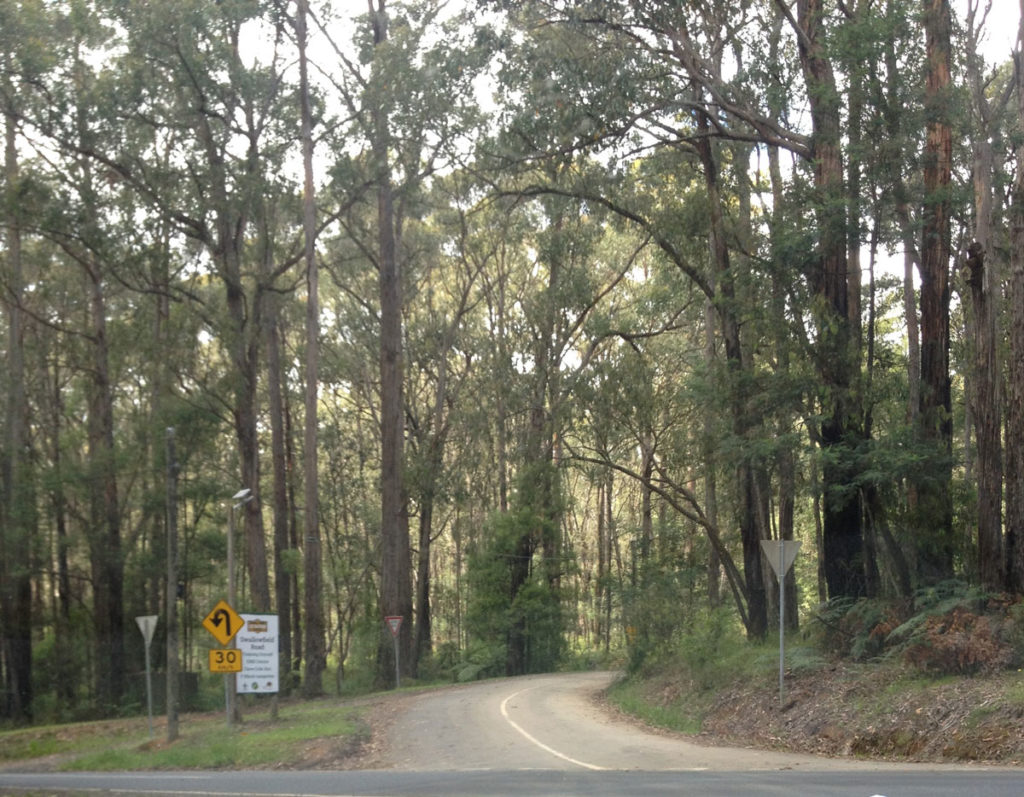 Swallowfield Rd - turn off to Gilwell Park